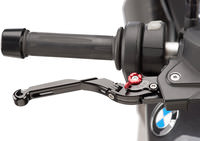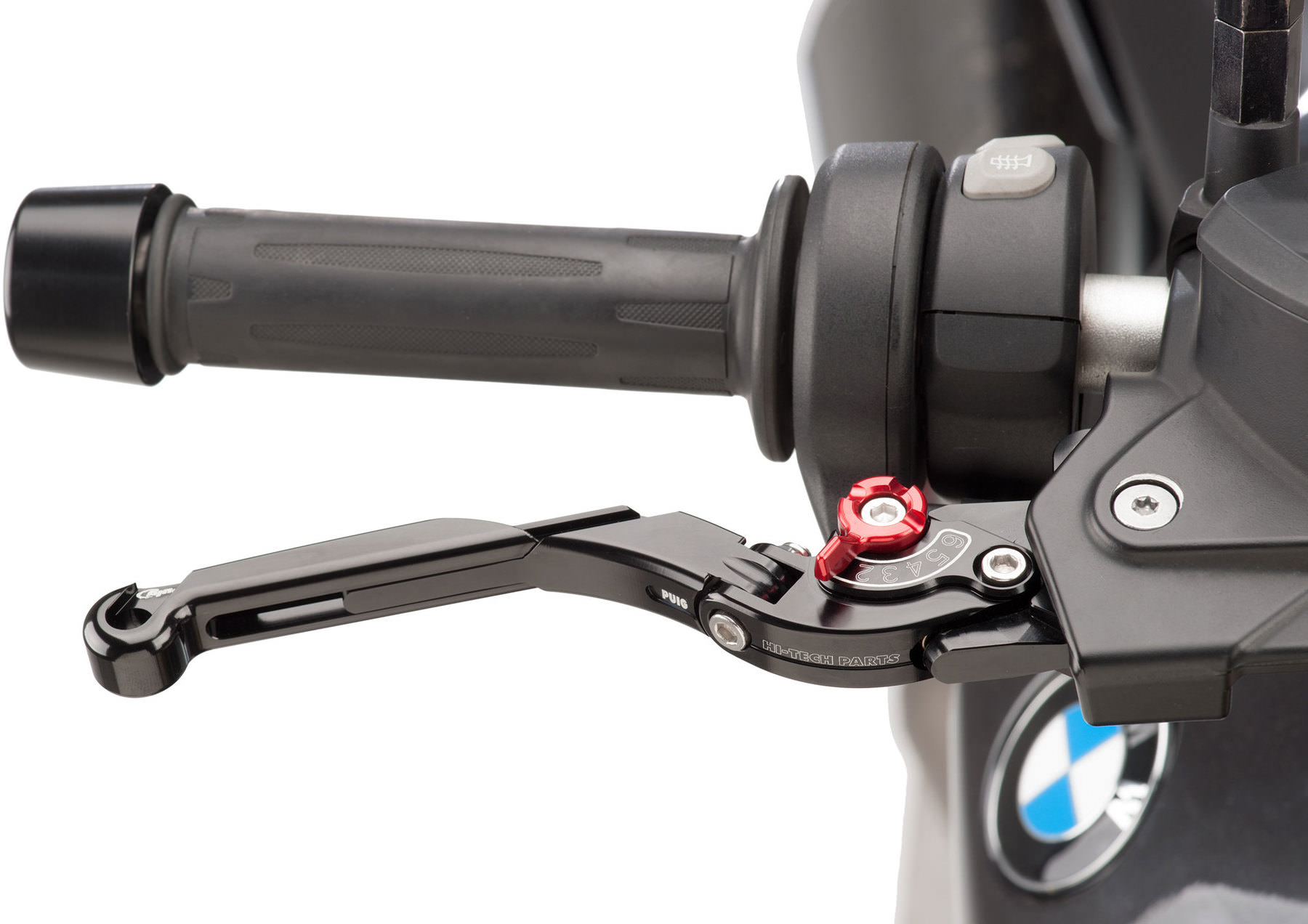 PUIG Brake Lever
Multiply adjustable & folding
Unfortunately, this product is not compatible with this motorcycle.
Unfortunately, this product is not compatible with this motorcycle. You can find the right for the here: .
Free delivery on orders over £199.00
2 year return policy
Fast Delivery
Go to currency converter
Please select the desired exchange rate* and enter an amount.
* The source of the exchange rate is the European Central Bank. (As at 29.05.2020). The exchange rate is for information purposes only; it does not provide binding prices for an exchange. In practice, for individual exchanges, the prices for buying and selling currencies can deviate to a greater or lesser extent from these rates – depending on the country, financial institution or bureau de change and also the method of payment. The conversion is given as an indication only.
PUIG Brake Lever
Multiply adjustable & folding
The folding and multi-adjustable motorcycle clutch and brake levers from Puig offer exceptional riding comfort. The grip length and width can be adjusted to precisely suit the rider's anatomy. All parts are made of CNC-machined aluminium, and very attractively finished. Top quality - Made in Europe.
These Puig clutch and brake levers come with type approval for a range of modern motorcycles!
CNC-machined aluminium
Sturdy and lightweight
Weight, not including adapter, only 140 g
Grip adjustable to six different widths
Lever length infinitely adjustable from 133 mm to 153 mm
If you have an accident, the lever folds upwards, preventing breakage in most cases
Colour of anodised lever: black
Colour of adjuster: red
Installation instructions included
Type approved (KBA (German Motor Transport Authority) no. 91294), no entry required in the vehicle papers
Included: lever and model-specific adapter
If you buy a new motorcycle, the lever can be modified to suit the new machine by changing the adapter, which is a simple and inexpensive job. The adapters are available from us on request!

If you already have a PUIG adapter and need a new lever, you can also obtain this from us!
Manufacturer details: Puig

Motorbike windshields and styling parts

Exactly 50 years ago the Puig company was founded not far from Barcelona. With the most modern development and production techniques, high-grade products for the automotive and motorcycle sector are still made on the 8,000 m2 site today. The best racers in the world choose Puig shields. The fairing windshields for production bikes draw directly from the experience and developments in MotoGP racing. The range of products also includes high-quality rear huggers, belly pans and crash bars. Of course, all items are supplied with type approval and installation instructions.

Made in the European Union

German type approval ("ABE)" allows the relevant accessory to be used on the vehicle models listed in the test report. Here it is the type abbreviation and not the maker's designation that is important for identifying the vehicle. The test report must be carried when riding in case it needs to be presented at a road-side check or vehicle safety inspection.
Accessories with type approval do not have to be registered in the vehicle documents! Those who do not want to carry the test report with them all the time can (for example) arrange to have the product registered by the Technical Inspection Association (subject to a charge).
If the accessory is to be used on a vehicle that is not listed in the type approval, an individual component approval is required. Although ABE type approval confirms the proper installation and safety of the product, it is the inspector who has to decide according to his technical expertise whether it is suitable for use on the vehicle.

An electric scooter with "ABE" approval has a type approval for Germany stating that the relevant vehicle satisfies all the relevant requirements of the eKFV (Small Electric Vehicle Ordinance in Germany) for the approval. In addition, insurance of the electric scooter is compulsory and use on pavements is forbidden. It can only be ridden on cycle paths and on the road (if a cycle path is not available). The minimum age for riding an electric scooter is 14 years. Although a driving license and helmet are not mandatory, they are highly recommended. An electric scooter must always be ridden solo.

This product is made of high-quality CNC-machined aluminium and will look great on your motorbike.

To ensure that it gives you many years of service, please observe the following care instructions:

1. After installing the product, and each time you wash your motorbike, apply a wax-based care product, e.g. Procycle Polishing Wax, Order no. 10004923 for protection against wind and weather. You may need to repeat the application after an outing in winter weather, rain or salty air (near the coast).

2. Remove any corrosion as soon as possible using a standard aluminium polish (e.g. Autosol Aluminium Polish, Order no. 10004421).
Test certificates (TÜV, ABE, material)
Instructions/Guides
Product
Order no.
Availability
Price
Actions
PUIG 5768N BRAKE LEVER - VARIOUS MODELS
10059489

The item is in stock and will be delivered in 2-4 working days. Note: Stocks are updated online every hour on working days from 7 a.m. to 8 p.m., so there is a good chance that the products are available if they appear online.

Available

£63.05 1
PUIG BRAKE LEVER 3497N - VARIOUS MODELS
10059559

The item is in stock and will be delivered in 2-4 working days. Note: Stocks are updated online every hour on working days from 7 a.m. to 8 p.m., so there is a good chance that the products are available if they appear online.

Available

£63.05 1
PUIG BRAKE LEVER 5444N - VARIOUS MODELS
10059493

The item is in stock and will be delivered in 2-4 working days. Note: Stocks are updated online every hour on working days from 7 a.m. to 8 p.m., so there is a good chance that the products are available if they appear online.

Available

£63.05 1
PUIG BRAKE LEVER 5446N - VARIOUS MODELS
10059473

The item is in stock and will be delivered in 2-4 working days. Note: Stocks are updated online every hour on working days from 7 a.m. to 8 p.m., so there is a good chance that the products are available if they appear online.

Available

£63.05 1
PUIG BRAKE LEVER 5447N - VARIOUS MODELS
10059492

The item is in stock and will be delivered in 2-4 working days. Note: Stocks are updated online every hour on working days from 7 a.m. to 8 p.m., so there is a good chance that the products are available if they appear online.

Available

£63.05 1
PUIG BRAKE LEVER 5452N - VARIOUS MODELS
10059471

The item is in stock and will be delivered in 2-4 working days. Note: Stocks are updated online every hour on working days from 7 a.m. to 8 p.m., so there is a good chance that the products are available if they appear online.

Available

£63.05 1
PUIG BRAKE LEVER 5453N - VARIOUS MODELS
10059487

The item is in stock and will be delivered in 2-4 working days. Note: Stocks are updated online every hour on working days from 7 a.m. to 8 p.m., so there is a good chance that the products are available if they appear online.

Available

£63.05 1
PUIG BRAKE LEVER 5455N - VARIOUS MODELS
10059472

The item is in stock and will be delivered in 2-4 working days. Note: Stocks are updated online every hour on working days from 7 a.m. to 8 p.m., so there is a good chance that the products are available if they appear online.

Available

£63.05 1
PUIG BRAKE LEVER 5458N - VARIOUS MODELS
10059475

The item is in stock and will be delivered in 2-4 working days. Note: Stocks are updated online every hour on working days from 7 a.m. to 8 p.m., so there is a good chance that the products are available if they appear online.

Available

£63.05 1
PUIG BRAKE LEVER 5462N - VARIOUS MODELS
10059474

The item is in stock and will be delivered in 2-4 working days. Note: Stocks are updated online every hour on working days from 7 a.m. to 8 p.m., so there is a good chance that the products are available if they appear online.

Available

£63.05 1
PUIG BRAKE LEVER 5464N - VARIOUS MODELS
10059477

The item is in stock and will be delivered in 2-4 working days. Note: Stocks are updated online every hour on working days from 7 a.m. to 8 p.m., so there is a good chance that the products are available if they appear online.

Available

£63.05 1
PUIG BRAKE LEVER 5754N - VARIOUS MODELS
10059543

The item is in stock and will be delivered in 2-4 working days. Note: Stocks are updated online every hour on working days from 7 a.m. to 8 p.m., so there is a good chance that the products are available if they appear online.

Available

£63.05 1
PUIG BRAKE LEVER 5831N - VARIOUS MODELS
10059478

The item is in stock and will be delivered in 2-4 working days. Note: Stocks are updated online every hour on working days from 7 a.m. to 8 p.m., so there is a good chance that the products are available if they appear online.

Available

£63.05 1
PUIG BRAKE LEVER 5976N - VARIOUS MODELS
10059491

The item is in stock and will be delivered in 2-4 working days. Note: Stocks are updated online every hour on working days from 7 a.m. to 8 p.m., so there is a good chance that the products are available if they appear online.

Available

£63.05 1
PUIG BRAKE LEVER 6141N - VARIOUS MODELS
10059480

The item is in stock and will be delivered in 2-4 working days. Note: Stocks are updated online every hour on working days from 7 a.m. to 8 p.m., so there is a good chance that the products are available if they appear online.

Available

£63.05 1
PUIG BRAKE LEVER 6142N - VARIOUS MODELS
10059470

The item is in stock and will be delivered in 2-4 working days. Note: Stocks are updated online every hour on working days from 7 a.m. to 8 p.m., so there is a good chance that the products are available if they appear online.

Available

£63.05 1
PUIG BRAKE LEVER 6143N - VARIOUS MODELS
10059544

The item is in stock and will be delivered in 2-4 working days. Note: Stocks are updated online every hour on working days from 7 a.m. to 8 p.m., so there is a good chance that the products are available if they appear online.

Available

£63.05 1
PUIG BRAKE LEVER 6453N - VARIOUS MODELS
10059548

The item is in stock and will be delivered in 2-4 working days. Note: Stocks are updated online every hour on working days from 7 a.m. to 8 p.m., so there is a good chance that the products are available if they appear online.

Available

£63.05 1
PUIG BRAKE LEVER 6578N - VARIOUS MODELS
10059483

The item is in stock and will be delivered in 2-4 working days. Note: Stocks are updated online every hour on working days from 7 a.m. to 8 p.m., so there is a good chance that the products are available if they appear online.

Available

£63.05 1
PUIG BRAKE LEVER 6582N - VARIOUS MODELS
10059481

The item is in stock and will be delivered in 2-4 working days. Note: Stocks are updated online every hour on working days from 7 a.m. to 8 p.m., so there is a good chance that the products are available if they appear online.

Available

£63.05 1
PUIG BRAKE LEVER 6591N - VARIOUS MODELS
10059545

This product is available at week 27.
Current calendar week: 23

Available as of calendar week 27

£63.05 1
PUIG BRAKE LEVER 6604N - VARIOUS MODELS
10059488

The item is in stock and will be delivered in 2-4 working days. Note: Stocks are updated online every hour on working days from 7 a.m. to 8 p.m., so there is a good chance that the products are available if they appear online.

Available

£63.05 1
PUIG BRAKE LEVER 6609N - VARIOUS MODELS
10059482

The item is in stock and will be delivered in 2-4 working days. Note: Stocks are updated online every hour on working days from 7 a.m. to 8 p.m., so there is a good chance that the products are available if they appear online.

Available

£63.05 1
PUIG BRAKE LEVER 6879N - VARIOUS MODELS
10059490

The item is in stock and will be delivered in 2-4 working days. Note: Stocks are updated online every hour on working days from 7 a.m. to 8 p.m., so there is a good chance that the products are available if they appear online.

Available

£63.05 1
PUIG BRAKE LEVER 7582N - VARIOUS MODELS
10059494

The item is in stock and will be delivered in 2-4 working days. Note: Stocks are updated online every hour on working days from 7 a.m. to 8 p.m., so there is a good chance that the products are available if they appear online.

Available

£63.05 1
PUIG BRAKE LEVER 7728N - VARIOUS MODELS
10059546

The item is in stock and will be delivered in 2-4 working days. Note: Stocks are updated online every hour on working days from 7 a.m. to 8 p.m., so there is a good chance that the products are available if they appear online.

Available

£63.05 1
PUIG BRAKE LEVER 7839N - VARIOUS MODELS
10059547

The item is in stock and will be delivered in 2-4 working days. Note: Stocks are updated online every hour on working days from 7 a.m. to 8 p.m., so there is a good chance that the products are available if they appear online.

Available

£63.05 1
PUIG BRAKE LEVER 7860N - VARIOUS MODELS
10059484

The item is in stock and will be delivered in 2-4 working days. Note: Stocks are updated online every hour on working days from 7 a.m. to 8 p.m., so there is a good chance that the products are available if they appear online.

Available

£63.05 1
PUIG BRAKE LEVER 9395N - VARIOUS MODELS
10059549

The item is in stock and will be delivered in 2-4 working days. Note: Stocks are updated online every hour on working days from 7 a.m. to 8 p.m., so there is a good chance that the products are available if they appear online.

Available

£63.05 1
PUIG BRAKE LEVER 9688N - VARIOUS MODELS
10059567

The item is in stock and will be delivered in 2-4 working days. Note: Stocks are updated online every hour on working days from 7 a.m. to 8 p.m., so there is a good chance that the products are available if they appear online.

Available

£63.05 1